Since we're already at Harajuku, it'd be a joke if we had given Takeshita Street a miss.
It's home to pretty much the latest trends and styles without the rocket-high price. It's also where you might be able to spot the loudest fashion or even.. the plain weird:
There's also a multi-level Daiso building, where YC and Xzz shopped with glee.. XB and I weren't too keen in the stuffs sold at Daiso, so we decided to explore the other parts of Takeshita Street.
It's the fall season, so it's no surprise that many shops were selling mainly winter clothing and boots. But of course, having been in Japan twice before, be it any season, skirts are never out of fashion (yes, including winter). I managed to get a dress, jumper-style under 4000 yen and an off-season metallic layered skirt at only 1000 yen!
There were also numerous 2nd hand boutiques, which let go of worn clothing and accessories at ridiculously low prices... If one's on a really tight budget, guess these shops would be a heaven-sent. (Lots of Japanese teen fashion mags like to feature such shops... haha.. teen = no $)
Takeshita Street has lots of shops, but for the guys, if you're not really into street wear or Goth, then sadly, there's nothing much in store for you... You'll have slightly more luck at the other street called Omotesando, otherwise known to me as the street of high-end fashion, which I gladly gave a miss coz I was too perturbed by the absurdly high human traffic... (Try multiplying the crowd at Orchard Road on a Saturday afternoon by, maybe, 5?)
After a not too long walk, we reached the other end of Takeshita Street and hey, presto! Guess what I saw?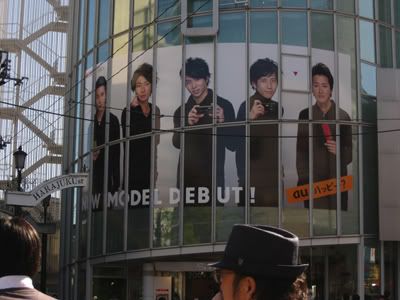 LOL! Arashi advertisment! Guess they are really big recently. If you're a big Arashi fan, you won't need much effort trying to catch them on tv. They're almost everywhere!! Commercials... Variety shows... You name it..
But anyway, not knowing where to go next, we followed a small crowd crossing the road to another small street. Most of the people made a turn when they reached another mini junction, but I guess XB and I weren't thinking too much at that time and we just continued walking straight... It's only when we realised we're the only ones walking in the desolated street amongst what seemed to be residential houses did we pause and think that perhaps, we're out of the commercial zone.. ==
We walked back to the mini junction and made a left turn. Indeed, there were more shops, but it was pretty quiet. Perhaps it was a little out of the way..? Most of the shops along this street had a very different feel from the shops at Takeshita Street. With the interesting facade, it's no brainer that these shops sell higher-end designer products. But once in a while, you could see shops like this:
If you're someone who appreciate individual or edgy styles, this almost 700 yen shop would be something you'd like.. Lots of accessories are going off at 700 yen, while some of the clothings might be a little bit pricey, most are pretty affordable. (It's only then that I realised this might have been the shop that Alvin and Abula had been talking about...)
Walking to the end of this small road led us to Omotesando, where I freaked out upon the sight of the crazy crowd. We hurriedly turned back and I was quite astounded by this sight:
It just seemed so beautiful and peaceful, unlike anything just a few steps away. It looked like it's right out of a Japanese drama. Haha.. Perhaps the good weather played a part too. The blue sky just looked amazing!
The above was quite an interesting sight too! For some reason, it looked kind of out of place along the street. Must be the over-usage of those blinds...
We're back at the mini-junction, and we continued walking straight (it would have been a right turn when we walked back from that desolated street..). It was another
"hey! presto!" moment when I saw this building:
It's the Design Fiesta Gallery! We didn't go in, which was a little pity, as we needed to find a place for lunch. (It's quite dumb, but now do I realise that Sakura tei was nearby! -.- Guess I was crossed-eye then to be able to miss that big sign on that lamppost...)
A note for all who want to tour around Harajuku on a weekend. Be early for lunch.. If possible, start queuing at 11!! Trying to find a place to lunch after 12 was like trying to get a seat in a 10-seater with 100 people! == We ended up eating Thai food... Don't get me wrong.. The food was good.. But I'd have preferred their local Japanese food.. It's also a little disappointing that I couldn't find that giant Takoyaki balls that Abula told me about...
The crowd at Takeshita Street in the afternoon was comparable to the crowd at Omotesando.. Something which I didn't really like..
XB and I decided to venture a little at some alleys along the street. Most of them ended with hidden galore for the hardcore Goths (Visual keis, mostly) and heavy metal fans.. Definitely not for the faint-hearted.. HAHA! We're also taken aback when suddenly, these 2 black guys (yes, blacks! and they spoke japlish) had a fight... o.o'''
We decided to explore a little more along the street beside the train station. There's a shop that sells solely Tamagotchi merchandise, and they had this mascot outside their shop!
Pretty cool. Hahaha.. There's also this building which sells mainly sports wear and stuff... Time's running out and we had 2 other places to go, so it's time to return to Daiso, our meeting place with YC and Xzz. Managed to snap a photo of this while waiting for the 2:
I heart the skirt! Guess there's a little goth/lolita in me..