I should have put this up last week, but had been kinda busy... Oh wells.. Needed a gift bag desperately for Angeline's birthday gift, so fished out whatever I had at home to make one.
Managed to find these 2 pieces of fabric-like wrappers (you know, those that they used to wrap bouquets of flowers?) and had some plastic flatback rhinestones (oh.. it's the fuwa fuwa mousse brand! Lol.. It's meant for the cream-like clay. But I'll be switching to swarovski flatbacks for that) and came up with this!
What I did was measure the desired width and height for the inner bag (just wide enough to put the gifts), sew the sides right-side facing each other, and then flip it inside out. That's the inner bag.
Then I measured another piece which was slightly wider and shorter than the inner bag. Sew the sides like before and turn it inside out. That's the outer bag. I pasted some blings onto this outer bag before placing the inner bag into the outer bag.
I then put the gifts into the inner bag, use a ribbon to tie the bag, and it's done!
Oh, by the way, had a little bit of fun with Photoscape...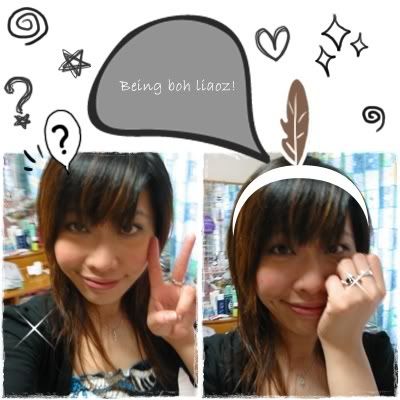 Trying to be funny.. heh.. and that angle makes my wrist look fat!...