... on Monday for the sake of matching an aqua/turquoise-colored dress that I bought in Hongkong.. It's very last minute though.. Haha.. Coz I had to attend the wedding dinner that very night.. =P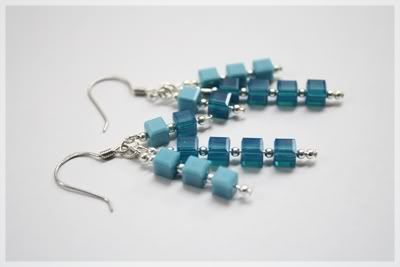 Earrings were made with aqua blue and turquoise Swarovski crystals and some small sterling silver beads, sterling silver eye-pins and white gold earring hooks.
Well, I ended up not wearing any of the pendants... Felt that wearing both the earrings and pendant looked kinda too much for me.. The earrings alone balanced the whole outfit pretty nicely. =P
That's the color of my dress~ Hehe..