Yes, my machine did a tension mess again when I was sewing my
It's the Pockets dress
. I had already have my upper thread tension dropped to 1, but the upper thread still seemed tight. Dropping the upper thread tension by 1 tiny notch seemed to solve the upper thread problem, but the bottom thread was in a total mess (too loose).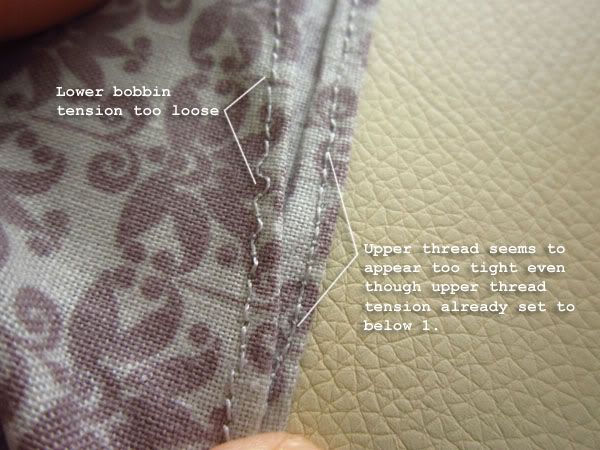 After pondering over this problem, and after re-reading a post by Grosgrainfabulous about shirring using the Brother machine, I figured my bobbin case tension screw must have loosened somewhat due to my pretty heavy use of the machine over this past year. And that resulted in my need to drop my upper thread tension pretty drastically to match the tension of the bottom thread so that the stitches could appear reasonably even.
To solve this, I need to get to my bobbin case. Unlike Kathleen's (Grosgrainfabulous) Brother machine, my bobbin case is stuck to the machine (I guess I could remove the upper plate but the screws were too tight. edit: after reading the manual, you can use a coin to unscrew them). However, I managed to lift the bobbin case up a little and that was sufficient for me to tighten the screw:
If you are unsure of how to get to your bobbin case, here's a very short tutorial:
To adjust your bobbin thread to the correct tension, there's a bit of trial and error to be done. First, thread your machine with a thread of normal thickness. Next, set your upper thread tension to 4 (the normal setting). Then, tighten your bobbin case tension screw. Once done, set your machine to zig-zag stitch (if your machine does not have that, you can use a running stitch, but it might be harder to see) and start sewing.
If the stitches at the bottom look funky to you, it means the bottom bobbin tension is too tight. You'll need to loosen the screw a little. If it's the stitches on the top that look funky, tighten the screw a little. Repeat this step until both the top zig-zag stitches and bottom zig-zag stitches look even.
Here's how my stitches look like after re-adjusting: