I am so honored to be invited again by the wonderful Agatha from Green Issues by Agy to jump on board her new blogging train:
Making Good
.
And so, I have this favorite sports skort (skirt + shorts combo) of mine which has served me well over the past half a decade. It is so well-worn that unsightly tears are starting to show up...
I have been itching to try this intriguing weaving + embroidery technique which I have seen on Pinterest. It is originally a
darning technique but tweaked to be used on woven fabrics
.
I quickly did up a sampler to get a feel of how the technique works as well as to decide the weight of thread that I wanted to use.
I finalized on using a double-stranded needle with a single strand of DMC embroidery thread. The process was tedious but the end results were quite cool!
Materials and tools used are embroidery hoop, DMC embroidery threads, mending patch, embroidery needle and a pair of scissors.
I got this mending patch from Daiso to act as a stabilizer. But, alas, it wasn't the most pleasant material to work with on my light-weight skort fabric.
In hindsight, I should have just used pieces of light-weight cotton (serged on the edges) as my stabilizers.
I selected some muted colors (pretty close in color value to the gray base of my skort) for the embroidery threads since I am going for a more subtle look (lest I made a glaring bad mistake which will stand out like a sore thumb) .
I first patched the holes with the Daiso mending patch.
I stretched the section which I wanted to embroider on with the embroidery hoop. Then, I drew in the shapes (with a water and air erasable pen) which would eventually be darned over.
Once the major holes are ment, I slowly built up the design with more embroidery and weaves.
And here is the final result!
On me
Here is a little video demonstration that I have made to show the basic concept of surface darning (weaving + embroidery). Enjoy! (I've used a single-threaded needle here instead. And looks like I have accidentally mispelt 'straighten'... Oops..!)
▼
▼
▼
▼
▼
▼
The very creative
Yaney
went beyond thinking outside of the box and made herself a spanking new pair of insoles for her shoes with a common material which one might not even think of! Do check her post out!
Next in the line of this blog train will be Karen from
Rude Record
. She is big on living in a frugal manner and her life is revolving around thrifting, upcycling and refashioning without losing style! Can't wait to see her project!
▼
▼
▼
▼
▼
▼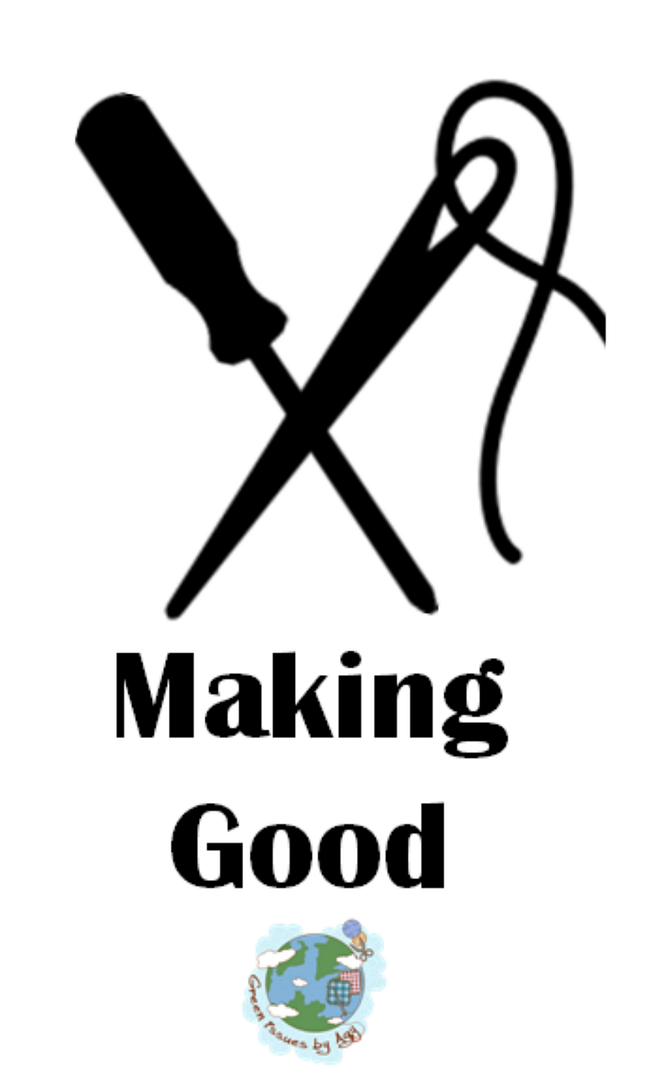 This post is part of a blog train hosted by Agatha from
Green Issues by Agy
on "Making Good". What is repair, and why do we even bother to repair the things we have? Some see repair as a way of reconnecting with our possessions as we extend their lives. Others see it as a form of creative potential and an avenue to express their craft. The rewards for mending varies from feeling immense satisfaction to prolonging the life of the product. Follow the "Making Good" blog train this month and see what we have repaired and reconnected with. Have you mended anything today?