Fragrant and tangy muffins.. Mmmm..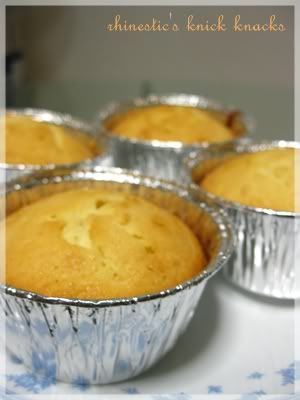 My own recipe =P
Serving: Makes 4
Ingredients:
90g Wheat flour (sifted)
About 1/2 to 1 teaspoon baking powder
60g caster sugar
1 egg
60g butter
About 1 to 2 tablespoons milk
Mixed juice from 1/2 lemon (fresh) and 1/4 orange (fresh)*
2 teaspoons Orange zest
About 1/4 cup oatmeal
*Note I did not use all the juice... But that's the proportion I'd used..
Directions:


Preheat your oven to 180 degree celsius (356 degrees Fahrenheit).

Beat butter and sugar in a bowl until smooth and creamy.

Beat in the egg.

Pour about 1/2 to 3/4 of the lemon and orange juice mix into the butter/sugar/egg batter in (2). Mix well.

Fold the flour and baking powder into the mixture in (3).

Mix in milk.

Fold in orange zest.

Fold in the oatmeal.

Pour your mixture into muffin cups, make sure to only fill about 1/2 to 3/4 of the cup.

Bake in the oven for about 25 to 30 minutes, or until the muffins turn a golden color.