The pineapple tart filling....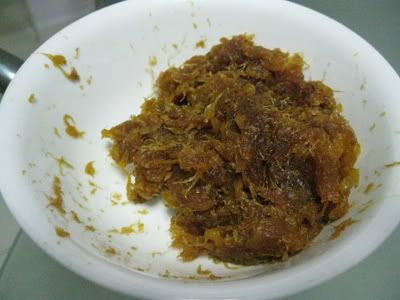 Got the recipes (there are 4) from my colleague, but I had no idea how big a medium pineapple was... The recipe (for filling made from fresh pineapples) calls for 2 medium pineapples... The ones selling at NTUC look like they're more of a small than a medium...
My colleague said they managed to make about 80 pieces from the stated amount of ingredients in the recipe. But since I'm not going to make tons of tarts, I decided to reduce the ingredients by half, which means I needed 1 medium pineapple... But I bought 2 small ones to replace it...
I also used much less sugar than the ratio provided... (150 grams for 1 medium pineapple... I think I used less than 1/2 cup... maybe a quarter??) I guess Malaysian Honey Pineapples taste sweeter than other pineapples... And perhaps, raw cane sugar has a stronger taste, so a little goes a long way...?
Oh, I didn't reduce the 1 cinnamon stick by half though.. I used a small saucepan to cook the filling in 2 small batches. If I were to use only half a cinnamon stick, that would mean I had to do the almost insane act of splicing the half stick into quarters for each batch...
Actually, from the look of the end product, I don't think I can make 40 pieces of tarts out of it... Maybe 1 medium pineapple = 3 or 4 small pineapples after all..?
The filling is now resting in the refrigerator.. Need to buy plain flour later after work.. Stay tuned for part 2..